Categories:
In my Ikebana classes I often show my students tricks that will help their Ikebana arranging. I decided to record this particular one after showing one of my Ikebana students, who remarked that it was such a very simple yet really useful tip.
So, the problem this time is how to hold tall, hollow stems, particularly those that are soft and difficult to insert firmly into a kenzan. Amaryllis is a great example, as you'll see in my Ikebana tip #6
And don't forget to send me your question or suggestion for a tip or trick and if I can turn it into a short video, I'll be pleased to. Just contact me with your How to…? question.
Categories:
I am delighted to announce our next exhibiton in Ruislip.
Ikenobo Hana No Wa London Study Group will be holding our annual exhibiton on 26th November 2016 26th November 2016
1pm to 5pm at:
Woodford Hall, Poplars Close, Ruislip HA4 7BU (map)
Admission: £2.00

We will exhibit over 30 arrangements, with mini-demonstrations, plenty of our members on hand to show you around and refreshments.

Categories: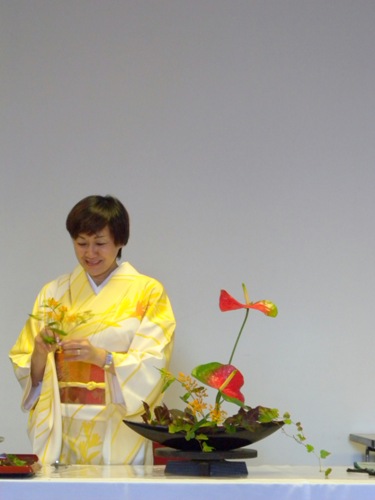 I am really chuffed (Keith says this is a the right expression to use) to have been invited back to Ikebana International Leicester Chapter to give another demonstration.
On my first visit, I was very warmly welcomed and by such an enthusiastic audience that it's a pleasure to return.
If you live in the Leicester area or happen to be visiting on 8th November…
Lunch at 12:00 with my demonstration from 1pm.
This is an open meeting and all are welcome.
The Village Hall
Main Street
Woodhouse Eaves, Loughborough, LE12 8RZ
Leicestershire (just off Junction 22 of the M1)
For more information, please visit Ikebana International Leicester Chapter website
I hope to see you there.
Junko