Categories:
It is impossible to overstate the passion my hosts of Ikebana International Kuala Lumpur Chapter have for Ikebana nor how wonderfully welcoming they they were.
From first meeting and having tea with the Committee of I.I. KL Chapter on arrival, I was made to feel very special. Malays, Japanese, Indian and an Iranian, all living in this wonderful city have built enduring and delightful friendships through flowers.
They had organised everything. A visit to a flower wholesaler to order some of the  materials for both my demonstration and the workshop.  The off to the Japanese Ambassadors' residence, where the Ambassadors wife, Mrs Miyagawa, invited me to chose any materials I wished from their wonderful garden and any vases from their extensive collection.
The exhibition will had around 60 exhibitors; my demonstration an audience of perhaps two hundred and my workshop 30 to 40.  I am so grateful to have the help of so many people to prepare and my good friend and fellow Ikenobo professor, Sachiyo, who has travelled from Japan to join in the fun.
I have so much more to tell and photos to show so will be getting a post-even page and gallery up soon.
Categories: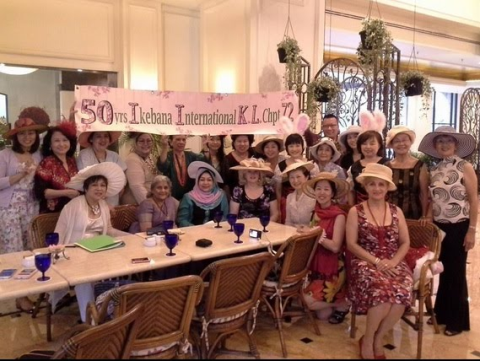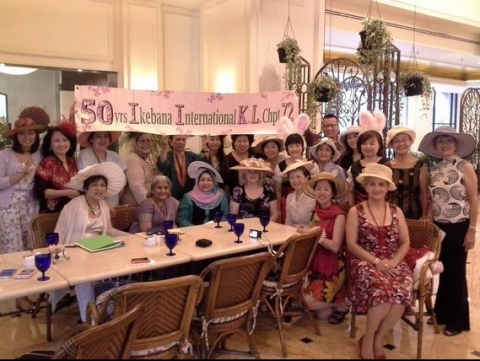 I am thrilled and honoured to have been invited to join Ikebana International Kuala Lumpur Chapter's 50th anniversary celebration event in their lovely city.
I.I. Kuala Lumpur Chapter is celebrating its 50 years' anniversary this year, with an exciting week-long event in Kuala Lumpur from 12th to 14th November 2014. And I have been invited to demonstrate Ikenobo Ikebana and run a workshop for members and honoured guests. The Chapter are planning a massive event, as you can imagine from their earlier pre-celebrations. To see more take a look at – I.I. KL website.
I have often given demonstrations and workshops within UK and exhibited in Japan. But this will be the first time demonstrating Ikebana in Malaysia. I am so looking forward to the event and to meeting up with Paulene, I.I. KL's President, Datin Paulene Tunku Mu'tamir, whom I have met several times before.  And I shall have the opportunity to see one of my first students, Joo, who now teaches in Malaysia.