Categories:
I am delighted to announce my first weekend intensive of 2019. It will be in Ruislip, 13th and 14th April.
Dates:
Saturday 13th April 1pm to 5pm
Sunday 14th April 09:30 to 2pm
Venue:
Woodford Hall, Poplars Close, Ruislip, HA4 7BU
Fee: £190 includes all flower materials and use of vases for the course. For more information visit my classes page or contact me.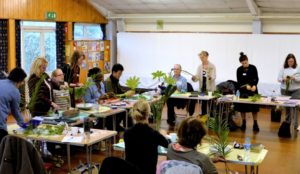 As you may know I have been taking a break from teaching, spending much more time in Japan. But I have now been able to organise another weekend intensive course of fun with Ikebana. I do hope you can join me.
I am exploring possibilities for running Ikebana courses in Japan, in both English and Japanese. I will make further announcements about this over the coming months.  If you'd like to spend a week studying Ikenobo Ikebana in Japan and in English, register your interest by contacting me.